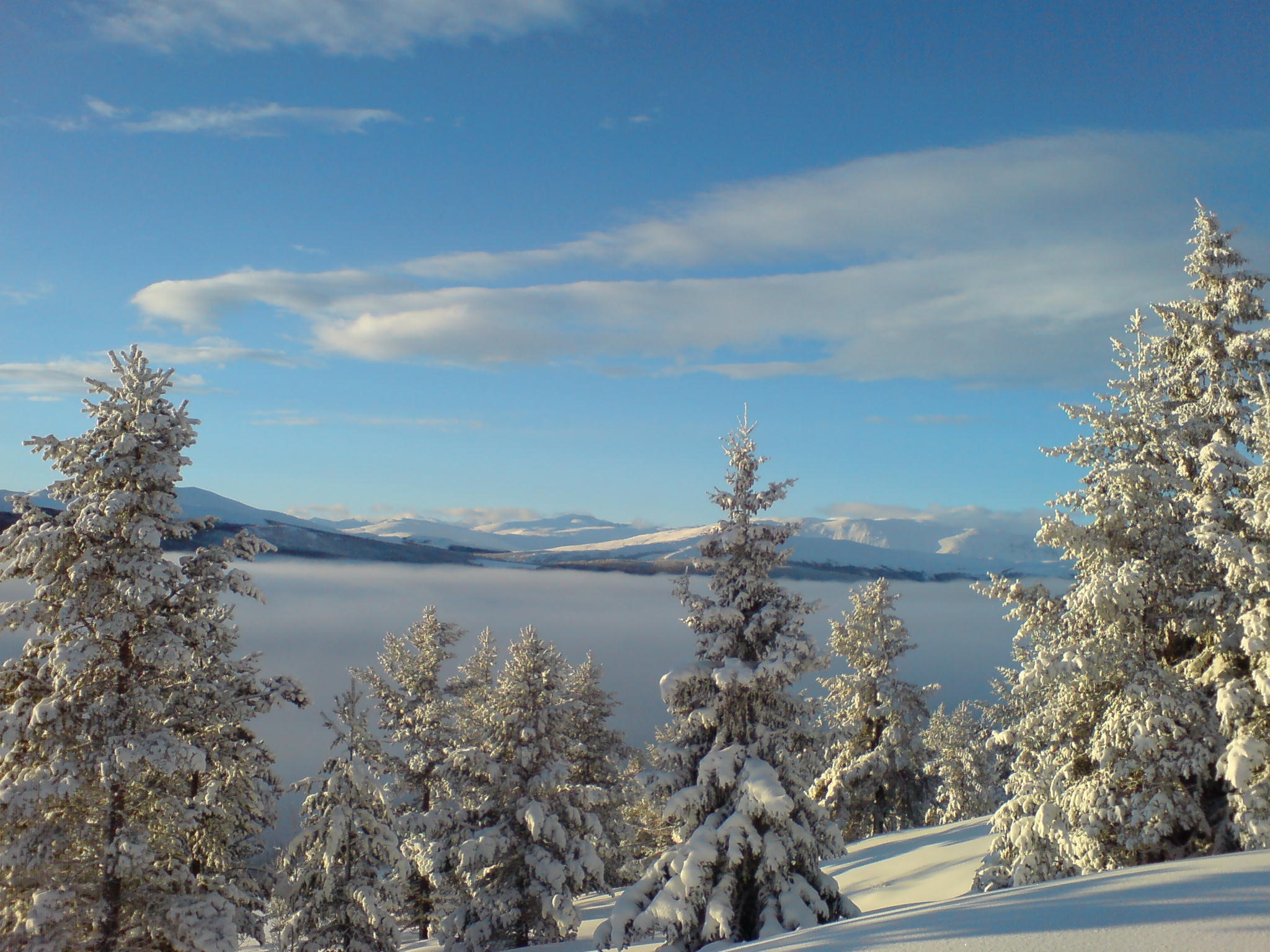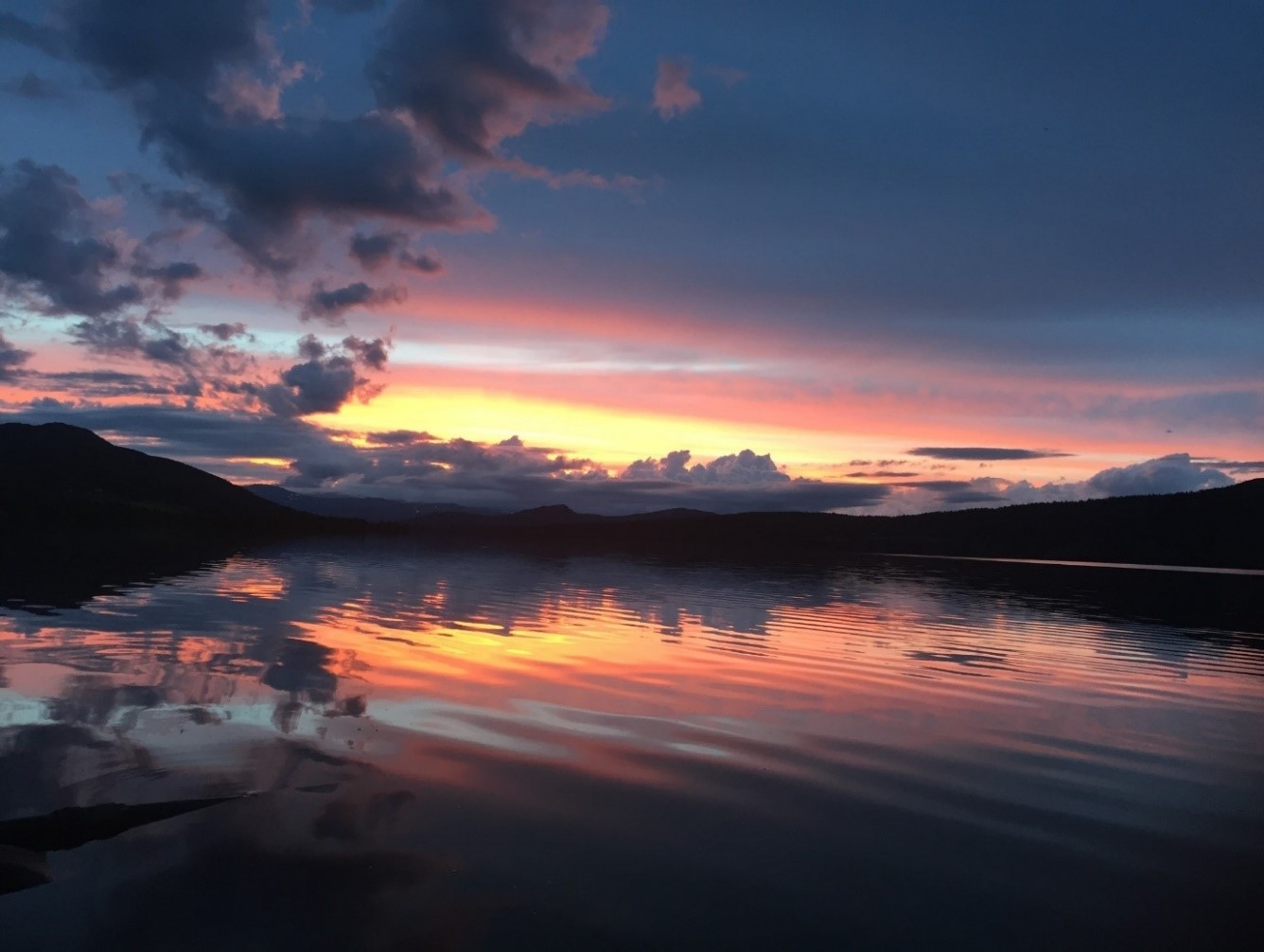 Renown Norwegian photographer Terje Rakke / Nordic Life visited us the 4. of February 2016. With a temperature of -14 Celsius and wind at storm level, the sun offered few welcoming rays brightening up a rough winter day. Regardless, as the pictures proves, two local cross-country enthusiasts, Terje Jonny Sveen and Kjersti Nystuen, took him to all their favourite spots and tracks.
Lemonsjøen, situated in the midst of Jotunheimen, enjoys pristine nature, quiet yet spectacular surroundings combined with local heritage. Activites for the whole family, enjoy the mountains togheter!
There are only a few regions in the world where such a number of national parks lie so close to each other as in the area in which you are now. Between the national parks, themselves, you will find places of cultural and historical interest, Norway's greatest number of preserved buildings and living traditions related to local food, handicraft, music and hunting. In Nasjonalparkriket, you have the culminating points of Norway's natural and cultural heritage to choose between. We have got what you are really looking for – real, genuine experiences that will stay with you. Welcome to the land of the national parks!
During winter time Lemonsjøen is the perfect destination for any skiing enthusiast! Choose between downhill, snowboard, cross country or other winteractivites through the magnificent nature of Jotunheimen.
In the area around Lemonsjø Fjellstua & Hyttegrend you can find about 150 kilometers for cross country tracks, freshly prepared up to world recognised professional standard suitable for classic and skayting style skiing. Jotunheimen Lemonsjø Ski center is just 300 meters away, offering speed and a multitude of slopes and unmatched freeride options! Also take the time to enjoy the silence, admire the moonshine over white snow, and the wild, beautiful, untouched nature! Maybe you will also experience a real winter snow storm or catch a glimse of the occational Northern Lights, whilst enjoying a cup of hot chocolate… Amongst the more exotic activities you can find husky trips, ice fishing, Randone / mountain peak skiing trips and "MountainCurling". Maybe be so lucky as to catch a glance of the local rendeer heard or the occasional moos crossing the tracks!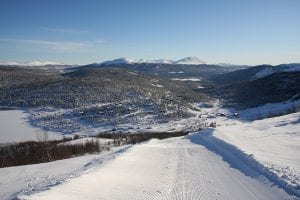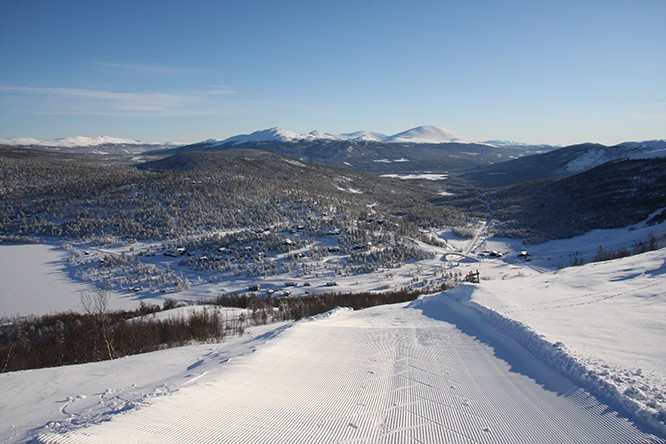 The area around Lemonsjø is vastly poplar also amongst the local population due to the unique opportunities for outdoor activities. Lemonsjø Fjellstue & Hyttegrend offers cross-country ski and pulk rental. At the ice-covered lake we arrange mountain curling.
Jotunheimen cross-country
The 
cross-country
 tracks in the area invites to a great trip regardless of physical fitness level. Easy, short trips as well as the long distances are available, over rough mountain terrain or through the gentler forest areas. The tracks are prepared and maintained during the months of December to April each year, extendable if conditions permit. Majority of the distance have double tracks and skating tracks are available at selected distances. The classic round around the lake offers 14 kilometres of varied terrain and views – Joutunheimen peeks and Rondane giants provides picturesque surroundings. During rough winter days, the forest areas provides cover and makes the trip a pleasant experience. The Joutunheimen track stretches from Brimi in the north all the way to Gjende in the south, more than 60 kilometres of uninterrupted tracks. Cross country skiing and trails has been a core product of Lemonsjøen since 1978. In the beginning, tracks where prepared using a simple snow scooter, later in cooperation with the local sports teams and tourism establishments in the area. In 2005 the "Vågåfjell Turløyper" (Vågå Mountain trails) organization was formed, now featuring a top modern trail machine, covering an extensive trail network comprising the areas of Lemonsjøen-Brimi, Hindseter and upper Sjodalen. Information about the tracks, maps and current pictures can be found at our Facebook page as well as the ski track app of Skisporet.no. Follow the links:
www.vagafjellturloiper.no
facebook.com/VagafjellTurloyper
Vinteropplevelser Aktiviteter – ny vinteren 2016
lemonsjorandsverkvinter2016
Lemonsjø Alpinsenter
, the alpine center, brings you up to 1250 meters above sea level through a 1400-meter-long ski lift. It offers 5 downhill tracks of different difficulty in addition to half pipe track, Slope Park, and a dedicated 150m children ski lift and slope. Trollhø Høkkers, the local freerider club has world class skiers in its team and features the international, spectacular event of Freeride Invitational on a yearly basis.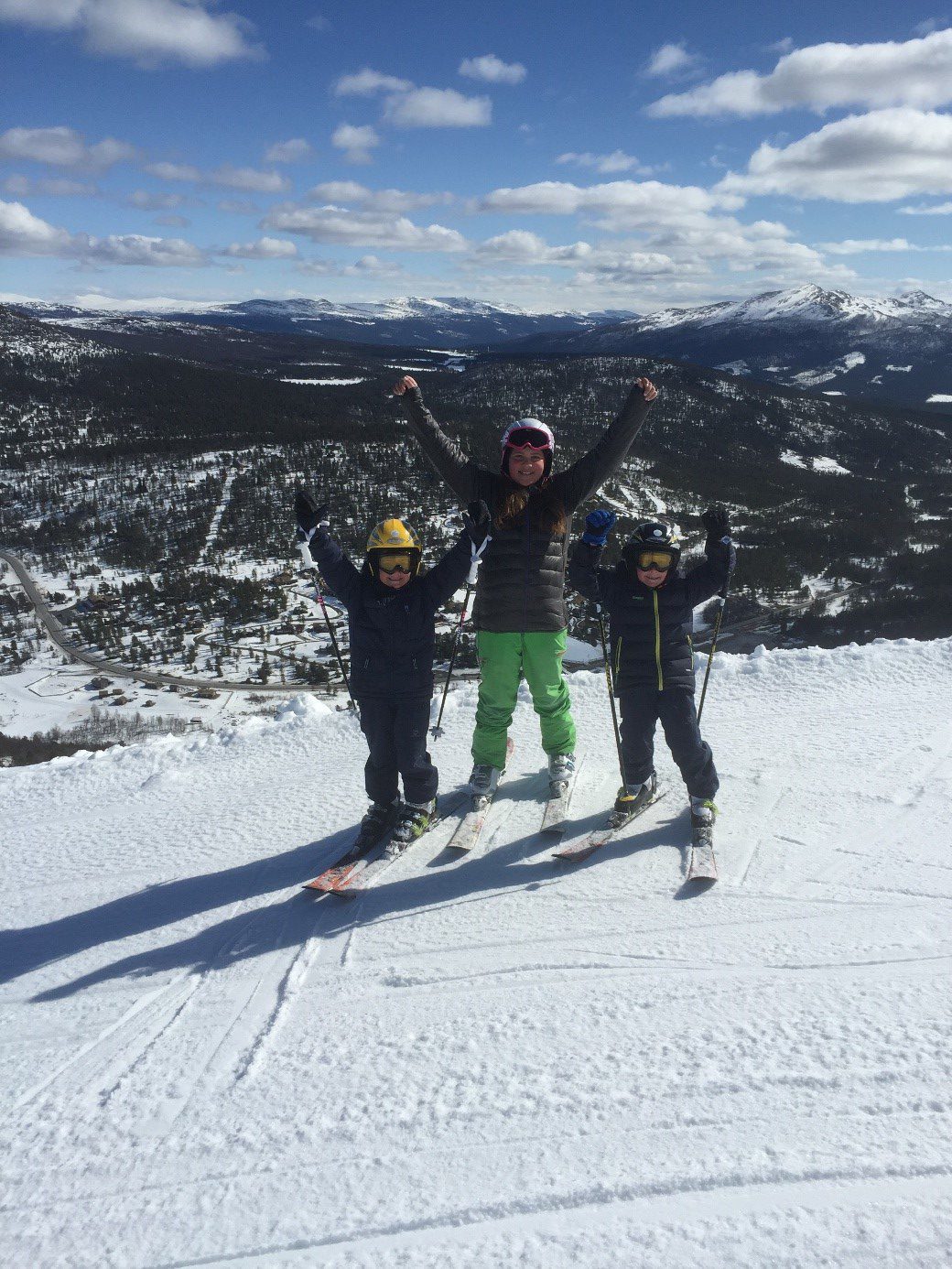 www.lemonsjo-alpinsenter.no/
"Eisstockshiessen", a popular sport in Austria – we adopted it and present you Mountain Curling – FjellKørling on the Lemonsjø lake!
Fun for adults and kids, friends and family.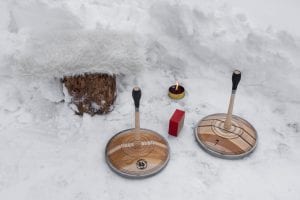 Two teams compete and gets closest to the target, fun and informal! Suitable for 2-30 persons.
Where:
 Lemonsjø Fjellstue & Hyttegrend
Inquery: phone +47 61238722, mail 
post@lemonsjoe.no.
Available:
 From 10/2 to 17/4, depending openinghours, ice and weather conitions.
Rates:
 Adults NOK 100,- / Children NOK 75,- pr. person pr. session.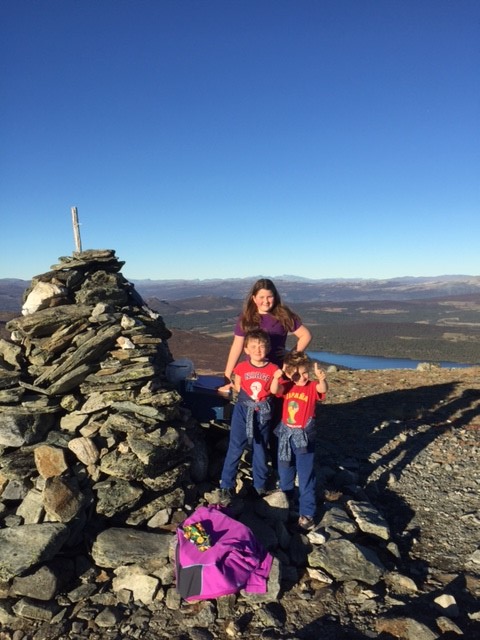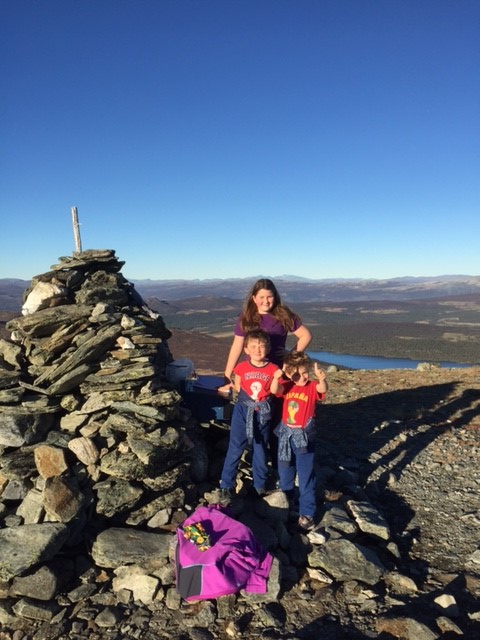 Summer time,
Lemonsjø Fjellstue & Hyttegrend represents the perfect base for the traditional trips like Geiranger, Trollstigen, Sognefjorden, Jotunheimen, Rondane og Dovrefjell, all representing the most magnificent of Norwegian nature. Well known mountain hikes like Besseggen, Galdhøpiggen, Glitretind, Rasletind and Knudshø is situated about an hour drive away. Or, let the car rest and enjoy the nature outside your doorstep. Trollhø mountain peak is a brisk 45 minutes walk and offers a stunning view of the Jotunheimen, Rondane and Dover mountain plateaus. River rafting in Sjoa, one of the world toughest rivers, is very popular in addition to another river challenge of Canyoning. The mountain trout can be caught in the lakes! Just make sure to have the required licenses. Or simply enjoy the beautiful colors as day's gets colder, like in September, and the sky turns pure and clear blue! As mentioned, river rafting is readily available as well as Canyoning, mountain climbing and biking, water sports, horseback riding, guided mountain trips, paragliding at dedicated center in Vågå, local farms with a variety of animals, even Mosse to visit, cultural trail "Hulderstigen" and "Ridderspanget", national tourist rout Valdresflya, the busteling mountianvillage of Beitostølen and Synshorn Via Ferrarta, outdoor camping and so much more… Our neighbour Kalven Seter offers an activity park along amazing coffe and Randsverk Camping rents you bikes. By the way, in the visinity of Gråho you might even spot our Troll… Lemonsjø Fjellstue & Hyttegrend offers boat rental on five different mountain lakes, maps of hiking and biking trails in the area along the best local information.
Hiking The beautiful and unique nature in Lemonsjøen – Randsverk and in the Jotunheimen national park invites you to walking and hiking trips. In the near vicinity, there are tours from 1 to 6 hours duration.
The mountain peaks of Gråhø, Trollhø, Kalvfjellet and Rindhovda offer fantastic views into the Jotunheimen and the Rondane national park. Lemonsjøen – Randsverk is an ideal starting point for popular hiking trips such as to Besseggen, the Glittertinden and Galdhøpiggen. But do not forget the many other tours! Jotunheimen national park offers you an incomparable diversity of Norway, from idyllic woodlands to scaring glacier cracks and over three hundred peaks with a height of over 2000 metres. Tour to Gråhø Gråhø is situated between Lemonsjøen and Flatningen/Melingen. The highest peak reaches up to 1290 m above sea level. From Gråhø you have a magnificent view to Jotunheimen, Heidalsmuen and Feforkampen and even to Rondane and the Dovrefjell. In addition, the view opens down to the lakes of Flatningen and Melingen and a number of other small waters. Initially, the tour leads through forest. Tour description: From Lemonsjø Mountain Inn/Lemonsjøen Mountain Park. Follow the marked and signposted paths through the hut section east of the Mountain Inn. If you plan a circular tour you can take the way back via Slomba. The tour is easy and signposted. Length: approx. 4.5 km, Time: approx. 2 hours Ascent: approx. 430 metres Tour to Veslvassfjellet The Veslvassfjellet reaches from Valdesetrene to Lemonsjøen and over to Tesse. The tour is easy and you will get an excellent view over Tesse and Kvitingskjølen, to Glittertind/Veodalen and the Jotunheimen national park. On the other side, you will see Rondane and the Dovrefjell. After the slope at Valdesetrene the tour leads into a hilly landscape before it goes back down to the lake of Tesse. The tour leads back on the same way or you have yourself picked up at the mouth of the Tesse. Tour description: The tour starts at Kalven Seter. You cross the national road no. 51 beside the Mountain Inn. From the Mountain Park you cross the bridge and turn right to Kalven Seter. Afterwards follow the path to the first «summer farm», then further along the road to the last farm on the right. The small path left to Tesse is signposted. From Randsverk: Follow the marked and signposted paths to the Lemonsjø Mountain Inn. The tour is easy and signposted. Length: approx. 10 km, Time: 4 – 5 hours Ascent: approx. 320 metres Tour to Trollhø The Trollhø rises between Lemonsjøen and Tesse and reaches 1370 m above sea level. From the peak you have a wide view to the Jotunheimen national park and especially to the Glittertind (2452 m above sea level). You also see the Nautgardstind, Besshø and a number of other well-known peaks in Jotunheimen. In the south-eastern direction the majestic Heidalsmuen appears, in the east you can see Rondane and in the north the Dovrefjell. Tour description: From the Mountain Inn you cross the national road no. 51. From the Mountain Park you cross the bridge and turn right to Kalven Seter. Afterwards, there is a steep ascent through Kalvdalen to the Trollhø. If you plan a circular tour, follow the signposted way to Randsverk and back again to Lemonsjøen. From Randsverk: Cross the national road at Randsverk Camping and follow the marked and signposted paths in the wood up to the peak. For a circular tour follow the signposted way to Lemonsjøen and back again to Randsverk. The tour is easy and signposted. Length: approx. 7 km, Time: approx. 3 hours Ascent: approx. 510 metres Tour to Ørnkampen Ørnkampen rises to 1162 m above sea level and is the highest point in the region of Rindhovda. From the peak you have a beautiful view to Heidalsmuen, Rondane and Jotunheimen. Tour description: From Randsverk: Follow the national road for about 200 metres, then turn right across the small bridge and pass the residential area in Randsverk on the left hand side. Follow the path to the peak. The tour is easy and signposted. Length: approx. 4 km, Time: 1 ½ – 2 hours Ascent: approx. 300 metres You can get all tour descriptions and maps in Lemonsjø Fjellstue or in the Randsverk Camping.
Besseggen
This classic pearl of a mountain hike peaks in popularity amongst local as well as tourist, an estimated 35000 hikers a year! Accessible from spring to autumn, the peak season is July and August, where the boat is available to give you a ride one way… The trip itself is 17km long, bringing you from 994 to 1743 meters above sea level. The average hiker spends between 5 to 7 hours, although the record speed is 1hr14min, still standing from the 1960's…versus up to 12 hours slow speed… What makes this hike so unique? Mid way through the hike, you will enter onto the "Eggen" or a knife formation of the mountain. It is a narrow, upwards (could also be hiked downwards of course) stretch offering a magnificent view. On you one side is the Gjende lake (994msl) with its characteristic green color as a result of water melting from surrounding glaciers versus the Bess lake (1374msl) with a icy blue color on the other side. The majority of hikers ride the boat from Gjende to Memurubu, situated half way across the Gjende lake. If you choose to continue the boat ride, you will reach Gjendebu, home to another pearl, Bukkelægeret. Part of this hike, the "Buckride", famed through Peer Gynt by Henrik Ibsen and featured through music by Edvard Grieg, is amongst the most amazing experiences in the world and within your reach! Visit www.gjende.no for boat schedule. From Lemonsjø Fjellstue & Hyttegrend, calculate a good 45 minutes drive, plus parking time – a good 90 minutes during peak season to be on the safe side. Anyway, sometimes you will have to wait for the boat to come back to bring the ones left over. It si not possible to prebo ok a place, first come first served. Should you which or if you visit outside the main season, options to the boat are available; Back and forth in one go, however, this is extensive. You could also return half way, after reaching the "Eggen". Over the mountain one way and along the lake back, about 8-10 hours. Hike to the Bess lake, up the "Eggen and down to Gjende, about 7 hours. Have a safe trip, remember right equipment and do not underestimate the mountains!
"Har du sett den, Gjendineggen noen gang?
Den er halve milen lang, hvass bortefter, som en ljå.
Utfor breer, skred og lider, rakt nedover under grå,
kan en se til begge sider lukt i vannene, som blunder
svarte, tunge, mer enn trettenhundre alen nedenunder."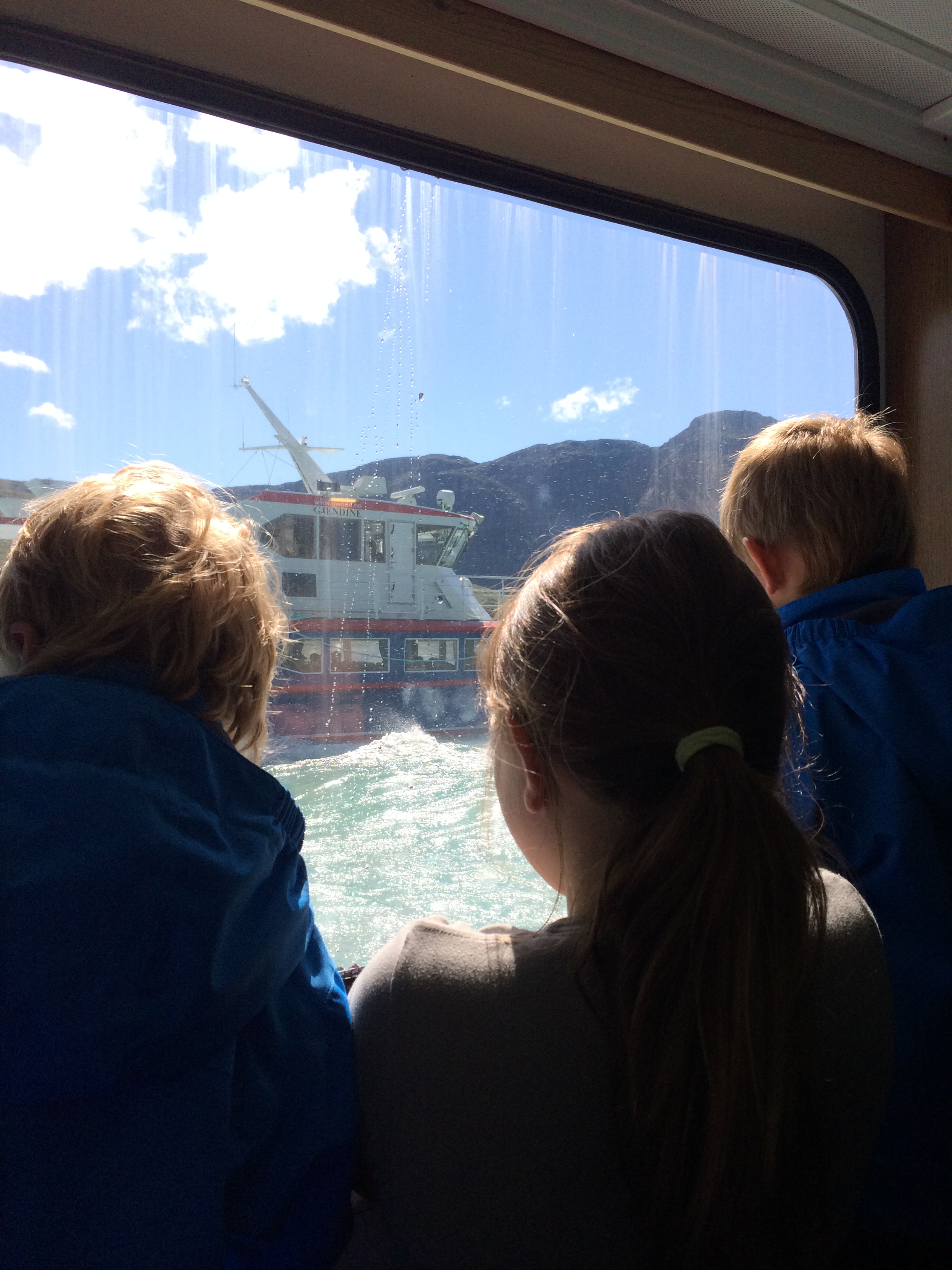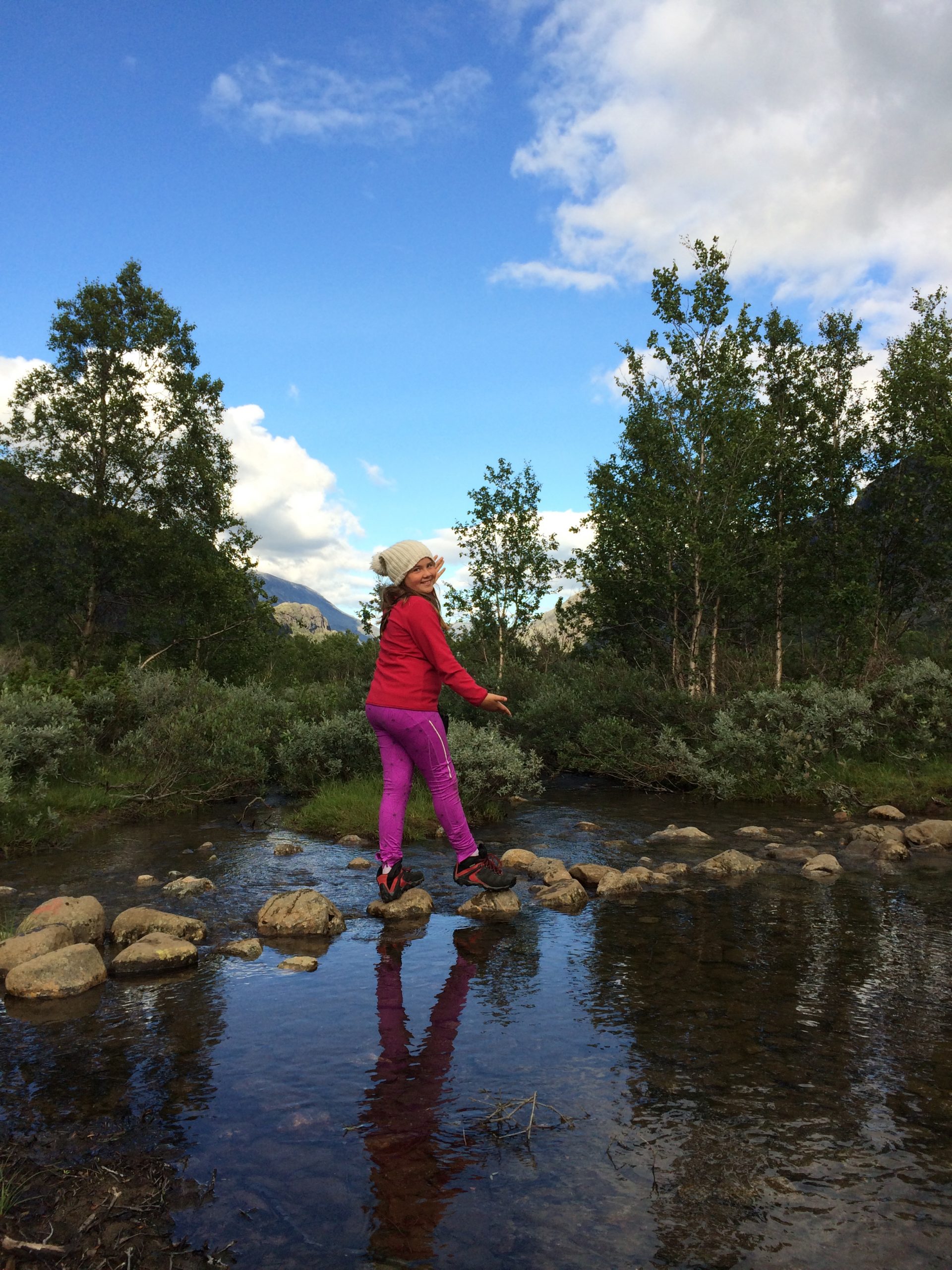 Gjendebu
Bike trips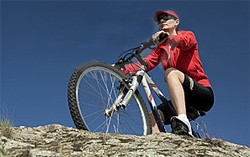 There are diverse possibilities for bike trips in the region. Off the busy roads, on small tracks and forest paths, there are tours suitable for the whole family. The trip from Lemonsjøen to Randsverk, via Fugleseterveien around Lake Tesse and back to Randsverk and Lemonsjøen, is a very nice day-trip.
Swimming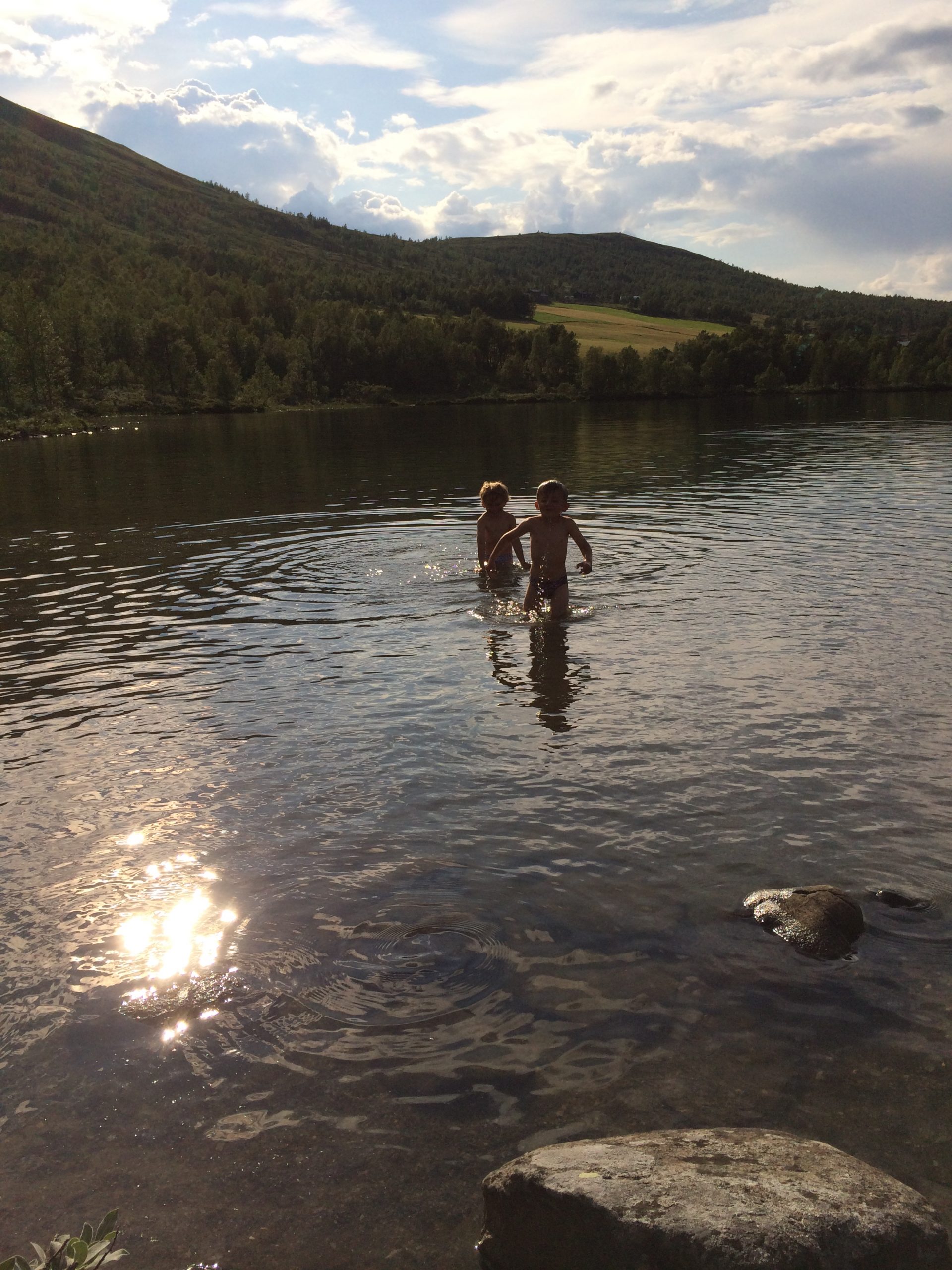 There are very good opportunities for swimming in the vicinity. A refreshing bath in crystal clear, pure water is always teasing. Fresh is a suitable term in any case. The water is hardly ever above 15°C even in summer. Near Lemonsjøen, on the river Rinda or near Tessesjøen you will find the best places.
Climbing
The «Brimi-Land»-climbing park
 is a thrilling challenge for persons of almost every age. 12 kilometers drive from Lemonsjø.
Fishing and hunting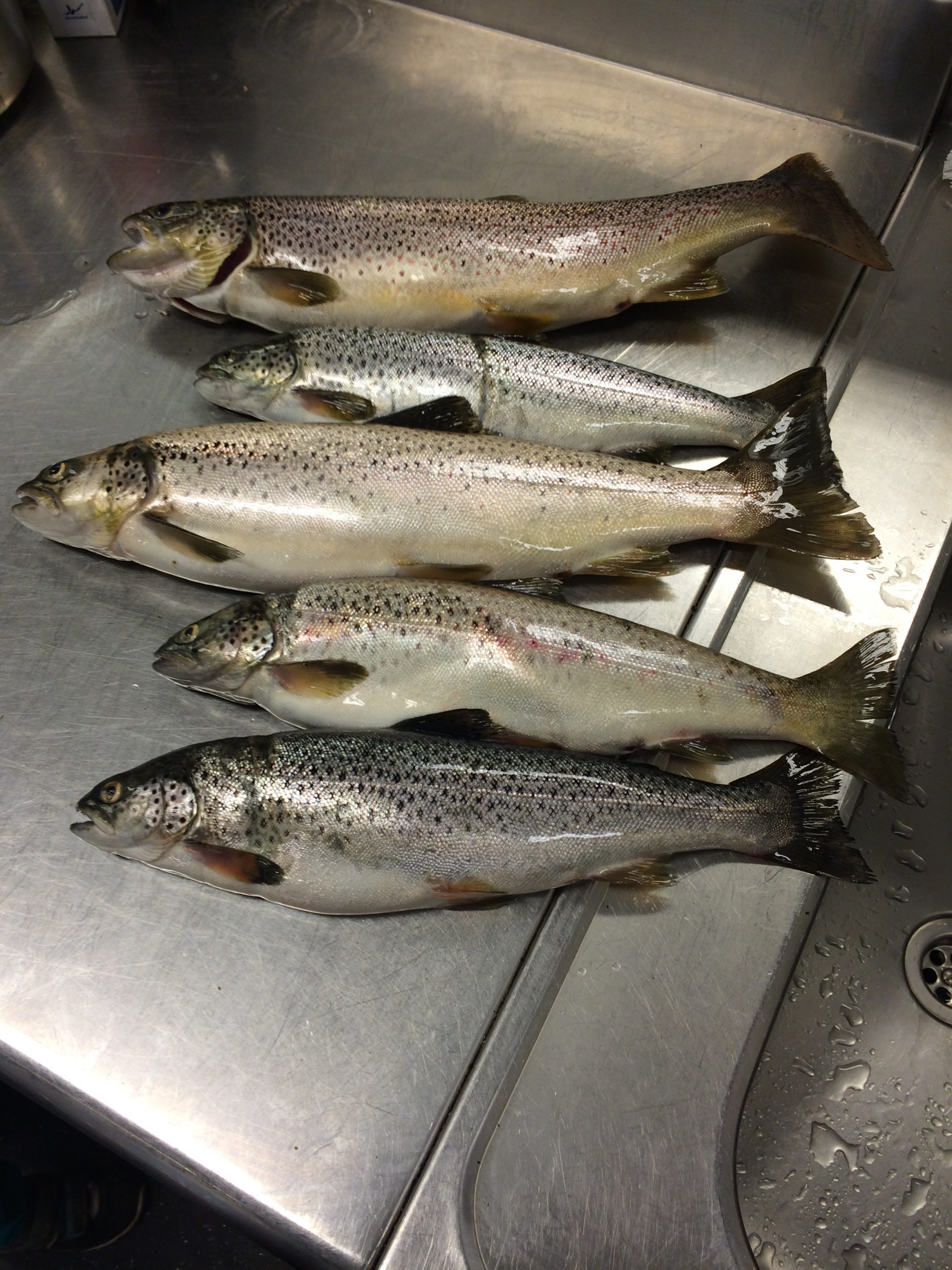 The Lemonsjøen-Randsverk region, Sjodalen and the Jotunheimen national park offer numerous fishing opportunities. Here, you can fish in the river, hire a boat or go to a small pond in the mountain region. We like to give you further hints and tips. Fishing is free for children up to 16 years, but all need a licence and must know the rules. Hunting is only permitted for residents of Norway.
Moose safari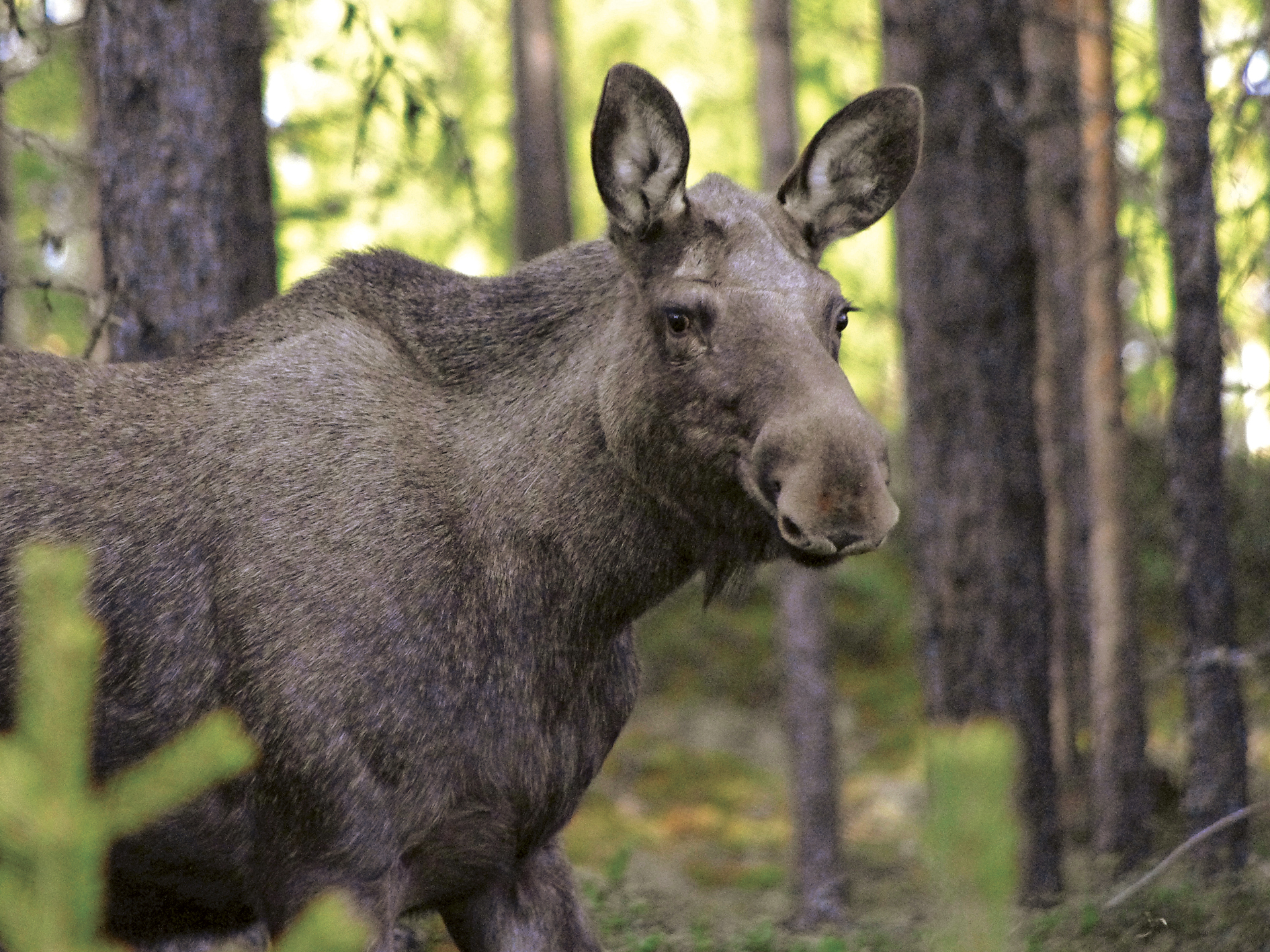 Come along with us in the evening on elk safari during the summer! We give you the tip on where to go or, on occations, we organize a guided tour in pure nature and with a 90% chance to see the King of the Forest.
Rafting and river activites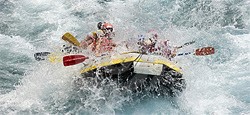 The Sjoa river is world known for riverrafting. You can find trips suitable for all levels, even familyfriendly. We are happy to help you with the planning. We recommend 
sjoarafting.no
, 
gorafting.no
Jotunheimen Nasjonalpark
There are only a few regions in the world where such a number of national parks lie so close to each other as in the area in which you are now. Between the national parks, themselves, you will find places of cultural and historical interest, Norway's greatest number of preserved buildings and living traditions related to local food, handicraft, music and hunting. In Nasjonalparkriket, you have the culminating points of Norway's natural and cultural heritage to choose between. We have got what you are really looking for – real, genuine experiences that will stay with you. Welcome to the land of the national parks!
Mountain giants
In 1862 Aasmund Olavsson Vinje named these mountains «Jøtunheimen», after the mythological Jotun – mountain giants. Today, Jotunheimen is the name we use for this magnificent mountain region featuring the highest mountains in Northern Europe. Most of the Norwegian peaks over 2000 m above sea level are in fact located in this area, with Galdhøpiggen at 2469 metres and Glittertind at 2464 metres being the highest. There are a number of glaciers in Jotunheimen. Between the high mountains and glaciers there are verdant valleys and beautiful watercourses with several large lakes. Gjende, which is the longest lake in the national park, is about 20 kilometres long.
Flora and fauna
A number of Norway's mountain plants can be found growing at the highest altitudes in all of Norway here in Jotunheimen. At Glittertind, the mountain plant Ranunculus glacialis can be found growing as high as 2370 metres above sea level. There is also a number of species of forest flowers that can be found in the highest concentrations in all of Norway here in this area. Among the lowland plant species there are lilies of the valley, strawberry, mezereon and a special mountain species of violet. The only forest in the national park is located in Gjende, where the birch forest grows as high as 1200 m above sea level. The mammals and birds in the area are more or less the same as the ones found elsewhere in Norwegian high mountain landscapes. About 75 nesting bird species have been registered in the national park. All of the four large deer species – reindeer, elk, deer and roe-deer – are represented. Several lakes and watercourse in Jotunheimen are excellent sites for trout fishing.
Use of the mountain
From time immemorial, the mountain has been linked to hunting, trapping, fishing and cattle grazing. On a tour through the landscape, one can often come across remnants of such earlier activities. In Jotunheimen, the landscape is ideal for ski trips, walks, glacier crossings and mountain climbing, and since the middle of the 19th century, the mountain area has been a popular destination for persons interested in such recreational activities. At several sites, you can still explore seemingly «uncharted territory».
Conservation
In 1980, an area of 1145 km2 in Jotunheimen was designated as the Jotunheimen National Park. At the same time, a 314 km2 area in the west was designated as the Utladalen Landscape Conservation Area. The conservation area has its own laws and regulations designed to protect the natural resources for future generations.
Practical information
You may: travel anywhere on foot or on skis, have a picnic and pitch a tent, pick berries and mushrooms, hunt and fish in accordance with applicable rules and regulations – but remember to purchase a hunting or fishing permit. You may not: cause any damage to plants or unduly disturb any animals (including birds), travel with motorised vehicles on land or water (with a few exceptions), damage or destroy plants, living or dead trees and bushes, break off stones or minerals, introduce new plant species, animals or fish, leave any type of garbage or pollution behind.
Management
Fylkesmannen in Oppland County, Lillehammer Fylkesmannen in Sogn/Fjordane County, Leikanger
National park warden
Norwegian Nature Inspectorate Jotunheimen in Lom and Norwegian Nature Inspectorate Jotunheimen in Vang in Valdres, in collaboration with the mountain watch.
Small game and fishing
On government owned common lands (about 99% of the National Park), hunting and fishing is administrated by the local Mountain board (separate office and oversight responsibilities). There are also hunting and fishing arrangements for most private lands as well. For more information, contact the person responsible for hunting and fishing permits in the municipality in which you wish to hunt or fish.
National parks in Norway – worth protecting
The nature in Norway is magnificent and diverse. There are still a few selected areas in which nature's own laws govern the growth and development of the local flora and fauna. Many of these areas are in danger of losing their unique natural qualities, if we do not make sure that proper conservation measures are taken. It is essential that a selection of each of the many different types of nature in Norway be protected so that later generations may also enjoy their beauty. In 1962, Norway began a process of creating national parks. The goal is to establish representative national parks and other protected areas in both coastal and mountain regions. In our national parks we want to protect the wide diversity of Norwegian nature, for the sake of both nature and ourselves. Coming generations have the right to experience pristine natural landscapes, and researchers must be able to study the biological processes taking place in such complex and natural systems also in the future. The national parks contain some of our most valuable natural treasures – let us protect and preserve them together!
Crossing glaciers and hiking
You must never travel on any glacier without having the proper safety equipment, and you must always cross with an experienced guide. Remember that suitable equipment is of no use unless you have experience in using it. Carefully plan the clothes and equipment you bring with you on each and every trip. Have a safe and enjoyable tour!
Information Norsk Fjellsenter
 in Lom.